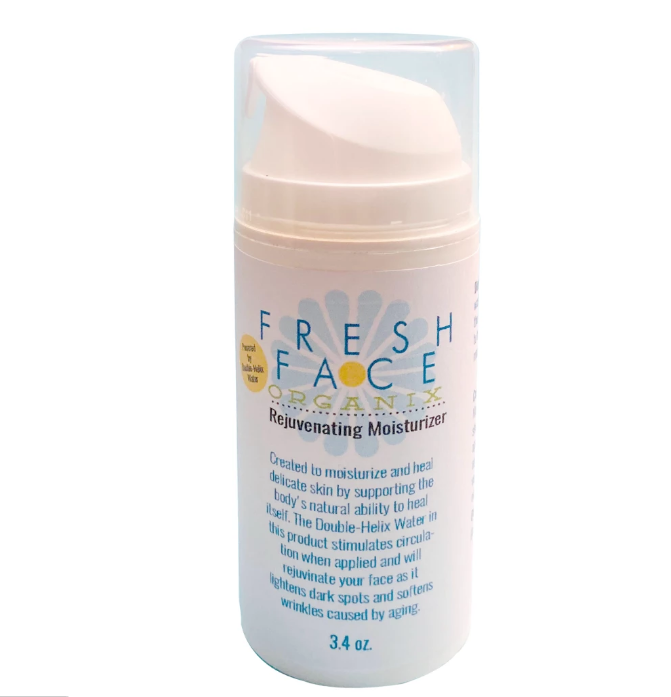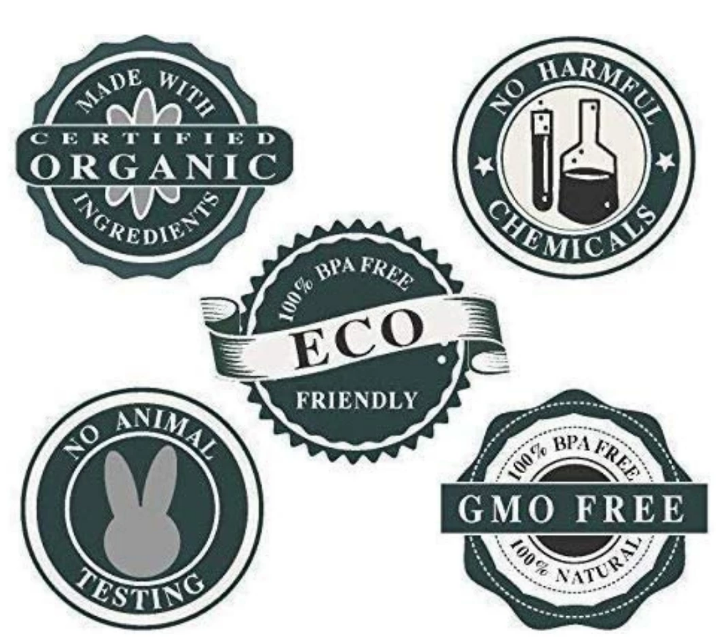 Fresh Face Organix Rejuvenating Moisturizer
Organic Facial Moisturizer. Revives Aging Skin Quickly. Repairs Dry Skin, Wrinkles, Dark Spots, Irritations And Sunburn. For All Ages And Skin Types.
Your Price:
$64.97
Stop! Read Below To Completely Change The Way You Handle Your Skin!
What would you give for a truly effective facial cream that visibly and rapidly handled aging symptoms? Most women (and men!) would go out of their way to find something that actually worked on the toughest facial problems, such as dark spots, wrinkles and other signs of premature or actual aging.
The "miracle" natural ingredient contained in Fresh Face Organix Rejuvenating Moisturizer is exactly that… a miracle. It is a very simple ingredient. But don't let simple fool you. Simplicity is power.
Years in the laboratory have led to the discovery of a natural ingredient that triggers an immune response and boosts your body's ability to heal itself. Naturally.
MANUFACTURED IN THE USA in a highly sterilized environment.
THIS CREAM DOES IT ALL – ORGANICALLY! It's luxuriously thick and creamy, but NOT greasy. Sinks right into your skin and makes it feel super fresh and ALIVE. Use it as a night cream and as a day cream before any makeup touches your face. A little goes a long way, too.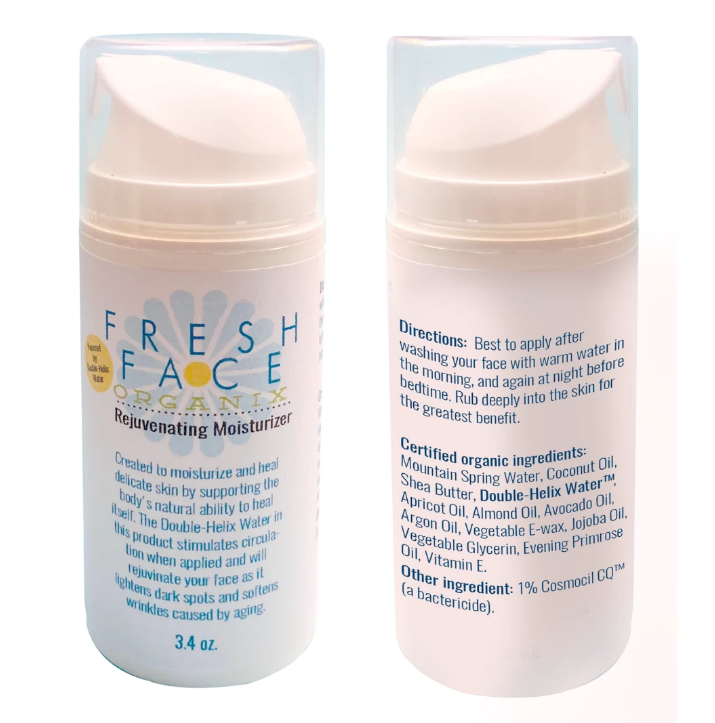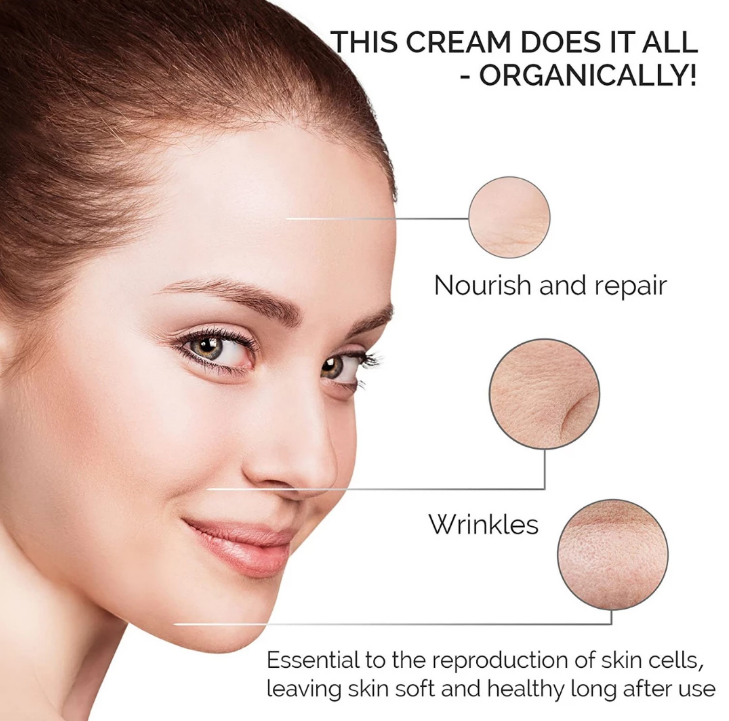 Most "organic" brands or expensive department store "hypoallergenic" creams leave a sticky feel, and don't show any change. This cream is completely different. It is absolutely FRAGRANCE FREE. It is so light….a little goes a long way. But the main thing you'll love about it is how naturally "dewey" your skin will look all day! It doesn't sit on the the skin.
You will love the way this cream makes your skin feel silky smooth when you put it on – and it lasts all day. Use it at night and when get up the next morning your face still feels soft and smooth. Its natural ingredients don't irritate your skin. If you have trouble with trying out new products for the face as your skin is very sensitive, this product feels great right from the first time you use it. Your face will look fresher and smoother.
100% money back guarantee if you don't love it as much as we do! We will do whatever we have to to make sure you are pleased!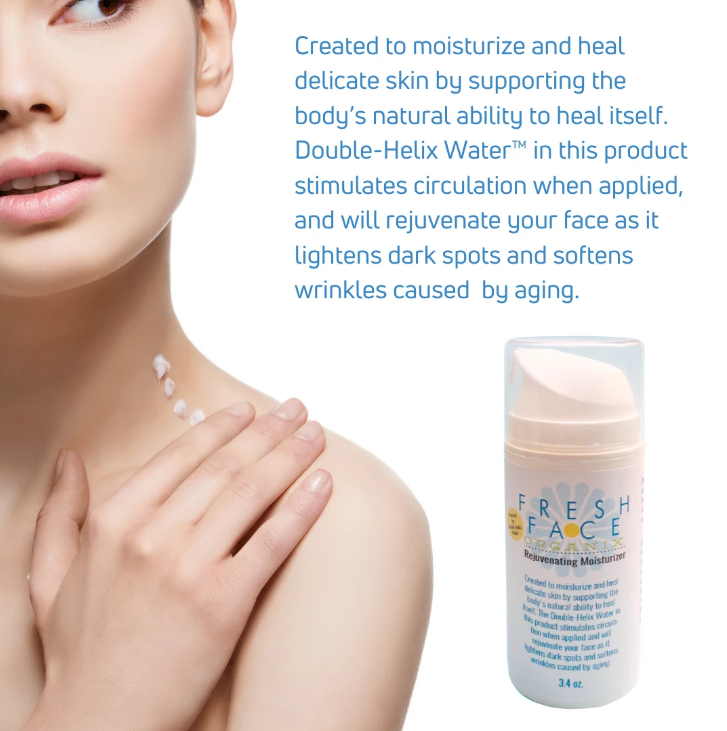 TRANSFORM YOUR FACE IN 30 DAYS OR LESS…
1 – Mountain Spring Water -Gives the skin the minerals and moisture needed to keep it healthy and hydrated.

2 – Coconut Oil -Acts as an anti-fungal and anti-bacterial that not only cleanses and gets rid of dead skin, but also can repair dry, flaky skin and improve its elasticity. Coconut butter has a natural SPF (Sun Protection Factor) and can help to prevent sun burning.

3 – Shea Butter -Used to protect the hair and skin against the fierce sun and hot dry winds of the African deserts. It has often been used as a base for medicinal ointments. It has anti-inflammatory hydrating properties and it also absorbs some ultraviolet radiation.

4 – Double-Helix Water -A highly charged particle that increases circulation and allows the skin to detox and heals itself. Also adds an extra charge to all of the other ingredients in the cream making them even more potent than they normally are.

5 – Apricot Oil -Contains gamma linoleic acid (GLA) an Omega 6 essential fatty acid that firms and tones skin. It also contains vitamins A & E, which soothe the skin and slow some signs of aging. Excellent for oily, normal and dry skin. Helps soothe eczema.

6 – Almond Oil -Rich in Vitamin E, mono-unsaturated fatty acids, proteins, potassium and zinc, besides a number of other minerals and vitamins. Safely used on sensitive skin as it is a hypoallergenic oil that moisturizes the skin without irritating it further.

7 – Avocado Oil -Contains a high amount of proteins, unsaturated fats, Omega 3 fatty acids, vitamins A, D & E and anti-oxidants that cause skin to be suppler and less dry, and sterols (fatty, waxy substances) that aid in softening skin and reducing the incidence of age spots.

8 – Vegetable E-Wax -A white, waxy solid that helps to bind oil and water together into a smooth, stable emulsion.

9 – Jojoba Oil -Is a natural fungicide used for many centuries by the American Indians for healing wounds and sores.It has many similar properties to human skin and it is absorbed well by the skin when applied, consequently helping the skin to stay hydrated.

10 – Vegetable Glycerin -Is a humectant (a substance that attracts moisture) that is easily absorbed by the skin. Because of this, it has been found to be an excellent natural remedy for burns and for dry skin that needs hydration.

11 – Evening Primrose Oil -One of the most important recent discoveries of our time, this medicinal herb is being studied all over the world and has become a standard remedy used for maintaining youth and preventing disease.

12 – Vitamin E -Found largely in wheat germ or sunflower seed oils, this ingredient is a a first-string defense againstfree radicals and other environmental, damaging effects.

1% Cosmocil CQ™ -An FDA approved mild bactericide. So mild that it is used to store contact lenses and is a common ingredient in baby wipes.