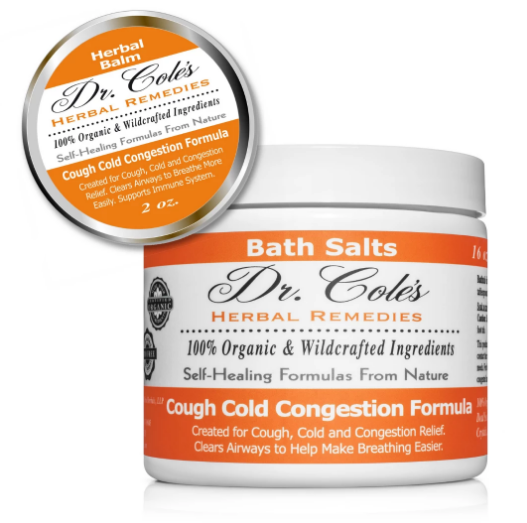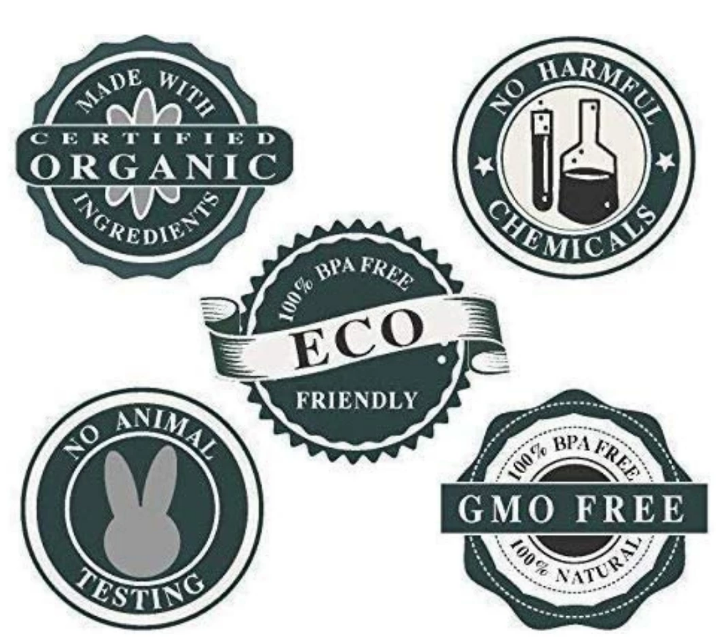 Dr. Cole's Cough, Cold & Congestion Bundle
MADE WITH 100% WILDCRAFTED AND ORGANIC INGREDIENTS, SAFE FOR ALL AGES, INFANTS & ELDERLY
Created by a Naturopathic doctor after 20 years of successfully working with patients suffering from every kind of respiratory ailment imaginable. The following protocol  (see below) has worked to quickly assist the body to heal from: allergies, asthma, bronchitis, COPD, emphysema, pneumonia, whooping cough, sore throats and the usual seasonal flu.
Your Price:
$36.97
THE PROBLEM – With prolonged use or overuse, typical cough and congestion remedies can negatively impact children, the elderly, those with existing health problems and those taking other medications. Further, some congestion-relief balms contain ingredients that can irritate the skin, causing severe burning, stinging or irritation.
THE SOLUTION – Doesn't your body deserve better? Dr. Cole's Cough Cold Congestion Balm is formulated with organic, wildcrafted ingredients and a blend of essential oils from nature–safe and effective treatment for relieving coughs and congestion.
THE DIFFERENCE – Dr. Cole's Cough Cold Congestion Formula was created by a Naturopathic doctor following 20 years of successfully working with patients suffering from congestion and coughs caused by the flu, allergies and the common cold. After years of experience, Dr. Cole discovered that employing a natural, Ayurvedic approach toward easing coughs and congestion was more effective than using chemical medications or other pharmaceutical products that are toxic to the human body.
.
Instructions for the Cough Cold Congestion Balm:
1. Before using your tin of Cough Cold Congestion Balm, stir the contents with a fork to blend the beeswax evenly with the herb-infused oils, and to create the optimal consistency for easy application.
2. Although this balm smells good enough to eat, remember that it's for topical use only!
3. Our deep penetrating balm is infused with herbs that quickly help ease congestion, clear airways, thin mucus and quiet coughs caused by the flu, allergies or the common cold. For best results, apply a layer of balm all over the chest, throat and lung areas (front and back) and rub it in well.
4. Used in conjunction with the balm, a humidifier or vaporizer can further relieve congested sinuses.
5. Do not use the balm on sunburned, chapped or broken skin. If the sensation caused by the balm causes discomfort, wash it off with soap and water.
6. To prevent spreading germs, wash your hands thoroughly before and after applying the balm.
7. Reapply the balm three to four times daily.
8. Appropriate for adults and children ages 2 and up.
100% Organic & Wildcrafted Ingredients: Olive Oil, Beeswax, Horehound, Ginger Root, Wild Cherry, Vervain, Elecampane Root, Echinacea, Chaparral, Chickweed, Colts Foot, Fever Few, Pleurisy Root, White Willow, Marshmallow Root, Menthol Crystals, Vitamin E & a Blend of Essential Oils.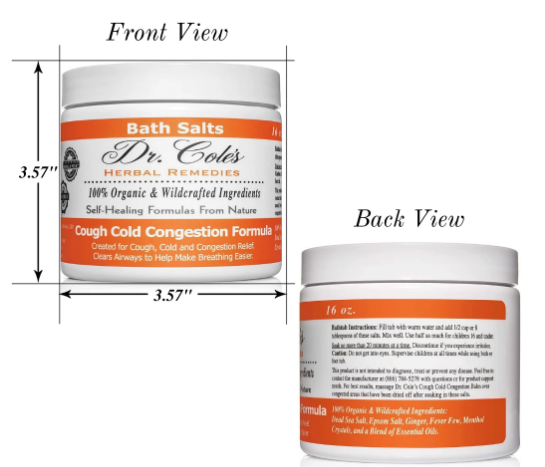 Instructions for the Cough Cold Congestion Salt:
Bathtub Instructions: Fill with warm water and add 1/2 cup or 8 tablespoons of these salts. Mix Well.
Use half as much for children 16 and under.
Soak no more than 20 minutes at a time. Discontinue if you experience irritation.
Caution: Do not get into eyes. Supervise children at all times while using this product.
For best results massage the Cough Cold Congestion Balm over congested areas that have been dried off after soaking in these salts.
100% Organic & Wildcrafted Ingredients: Dead Sea Salt, Epsom Salt, Ginger, Fever Few, Menthol Crystals, and a Blend of Essential Oils.
Habits to help you avoid colds and flu:
• Wash your hands thoroughly and often. Use plenty of soap and water. Then, avoid touching your eyes, nose and mouth, three places where germs can enter the body easily.
• Get plenty of sleep each night – seven to nine hours whenever possible.
• Eat healthy foods, especially fruits and vegetables, to build up and support your immune system.
• Exercise regularly to help strengthen your body and reduce stress. Exercise also increases your circulation, enabling antibodies to travel through your bloodstream faster, thus helping your immune system to respond quickly to invaders.
• Drink plenty of fluids to stay well hydrated.
• As much as possible, keep your distance from those suffering from a cold or flu.